Red Spirit, our inspiring series
Download the brochure by clicking here.        
    All Red Spirit comes in gift boxes with hangers.
Even at first sight, the beholder experiences the inspiration and passion emerging from this knife series. Our Red Spirit knives are designed for uncompromising sharpness. The blades are grinded extremely slim and the cutting edge is polished. The round shaped, Asian-style handle of the knife offers an extraordinary haptic.
Tourne Knife
| Item No. | length | colour |
| --- | --- | --- |
| 81746070 | 3 " | |
Paring Knife

| Item No. | length | colour |
| --- | --- | --- |
| 81747090 | 3 1/2 " | |
Steak Knife, serrated edge
| Item No. | length | colour |
| --- | --- | --- |
| 81703120 | 4 1/2 " | |
Filleting Knife, flexible

| Item No. | length | colour |
| --- | --- | --- |
| 81754180 | 7 " | |
Carving Knife

| Item No. | length | colour |
| --- | --- | --- |
| 81756210 | 8 1/2 " | |
Santoku

| Item No. | length | colour |
| --- | --- | --- |
| 81742180 | 7 " | |
Santoku, Kullenschliff

| Item No. | length | colour |
| --- | --- | --- |
| 81742180K | 7 " | |
Usuba, Vegetable Knife

| Item No. | length | colour |
| --- | --- | --- |
| 81743180 | 7 " | |
Chinese Chef's Knife, slicing
| Item No. | length | colour | net weight |
| --- | --- | --- | --- |
| 81705180 | 7 " | | 330 g |
Chinese Chef's Knife, chopping
| Item No. | length | colour | net weight |
| --- | --- | --- | --- |
| 81706180 | 7 " | | 400 g |
Chef's Knive

| Item No. | length | colour |
| --- | --- | --- |
| 81747210 | 8 1/2 " | |
Chef's Knife "AJAX"

| Item No. | length | colour |
| --- | --- | --- |
| 8172220 | 8 " | |
Knife sheath, for Chef's Knife "AJAX", antislip material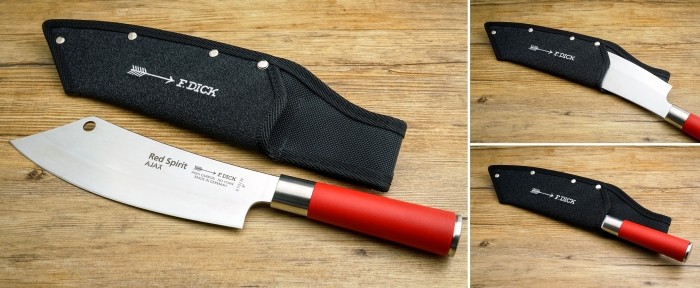 Bread Knife, serrated edge
| Item No. | length | colour |
| --- | --- | --- |
| 81739260 | 10 " | |
Butcher's Knife "HEKTOR", Kullenschliff

| Item No. | length | colour |
| --- | --- | --- |
| 81725260K | 10 " | |
Tanto

| Item No. | length | colour |
| --- | --- | --- |
| 81753210 | 8 1/2 " | |
Yanagiba, Carving/Sushi Knife

| Item No. | length | colour |
| --- | --- | --- |
| 81757240 | 9 1/2 " | |
Fork

| Item No. | length | colour |
| --- | --- | --- |
| 91701200 | 8 " | |
Sharpening Steel Red Spirit

| Item No. | cut | length | shape |
| --- | --- | --- | --- |
| 71741250 | regular cut | 10 " | Round |
Boning Knife

| Item No. | length | colour |
| --- | --- | --- |
| 81745150 | 6 " | |